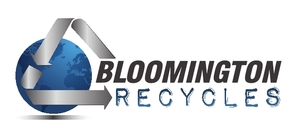 The City of Bloomington is rolling out new recycling carts to households across the community. Households that were already utilizing the curbside system in Bloomington should receive a cart for the new system before Thanksgiving.  The new system utilizes an automated truck to empty the city-issued recycling carts.  With now greater capacity for your recycables in combination with the ease of single-stream recycling (no sorting required!), you can now recycle more than ever!
FREQUENTLY ASKED QUESTIONS
Q: How soon after receiving the new recycling cart do I start using it?
A: Please begin using these new carts right away on the same date that you previously recycled.
Q: I didn't receive a recycling cart when my neighbors did – how do I get my new recycling cart?  How soon can I expect it?
A: Please order a recycle cart right away if you didn't already.  The timing of the second order will depend upon how quickly people request more carts.  The latest delivery of the second round with be in the Spring of 2013.  Carts could be delivered sooner if a lot of residents order their carts.  If you didn't get a cart in the initial order, you can sign up to get one in the next order, which will take place soon.  Call City of Bloomington Public Works at 309-434-2225 or 309-434-CART or sign up online.  
Q: My household doesn't generate enough recyclables to need the 95-gallon size cart; can I trade it in for a 65-gallon cart?
A: The City is asking that people give at least a 60 day trial with their 95 gallon cart.  The City doesn't have extra carts at this time to switch out to a smaller size.  If after 60 days, residents would like to switch carts then they need to contact the Public Works Department at 309-434-2225 with their address and request to switch to a smaller cart.
Q: Can I continue to recycle using my old blue bins?  Will there be a transition period?
A: For those that missed the original cart order window, the City will allow for them to use the old blue bins assuming they have ordered a new cart.  Once the second round of carts are delivered, the City will stop allowing the use of older blue bins.
Q: Is there a way to donate my old blue bin to be used by area schools for recycling?
A: Residents are encouraged to bring their older blue bins to the Public Works Drop off facility at the corner of East Street and Jackson Street during regular business hours.  Residents can also leave a note on their blue bin at the curb so it can be taken by our crews or call in and give their address so we can collect the blue bins.  City crews won't collect blue bins without this notice so there is no error in collecting a blue bin that the resident still wants.
Q: Does every household in Bloomington qualify for the curbside recycling program?
A: No. You must be in the refuse billing program.
Q: What is recyclable in the City of Bloomington?
A: Lots of things!  Consult the City's website or the Ecology Action Center.
Q: I am a resident of Normal.  What are my options for recycling?
A: Sign up for Normal's automated singlestream recycling program or utilize the recycling drop-offs around town.
Q: What about other things that I can recycle, in addition to the usual items?
A: Consult the Ecology Action Center's website for many resources on nontraditional recycling programs in our community including household batteries, plastic garden pots, textiles, CFLs, automotive fluids, and more!